Christmas celebration in the Philippines is considered to be the longest one in Asia.
Eve. Christmas spirit can be felt everywhere.  Approximately, Filipinos are 90% Christians and 80% of that Catholic.  Keeping up in Christmas preparations, how do Filipinos celebrate Christmas in the Philippines?
Other articles you can read:
Below are the customs and traditions on how Filipinos enjoy this season and what you can expect if you're celebrating this special holiday in the Philippines.
Simbang Gabi
This is one of the oldest Christmas traditions in the Philippines. Filipinos flock to the Catholic church to attend a 9~ day pre-dawn mass or commonly known as "Simbang Gabi".  People wake up at dawn and go to church to attend the 1-hour church service that usually begins at 4 am. On  Christmas Eve, they usually held the church service in the evening. The Simbang Gabi is a way of thanksgiving, worship, petition or simply to fulfilling someone's wish come true. Some Filipinos believe that if you completed the 9-day church service, your ultimate wish might come true!
Parols
You might have already seen something like this somewhere else or probably only in the Philippines; you might think it is unique. Indeed! Filipinos are always very creative that they even design parols on their own. Parols are graced with various designs, colours, sizes, lights, and prices. It is a traditional symbol of Christmas spirits in the Philippines, and each house has one or more parols hanging whichever spot is visible. It is like a star shining brightly in one's home.
Christmas sale shopping 
Filipinos love Christmas sale; most shopping malls offer a pre-Christmas sale of some items. Christmas decorations as well are glamorous and dazzling. Big balls and a giant Christmas tree are consistently striking in the eye.
Philippines has many big and wide shopping malls. In fact, the biggest shopping mall in Asia can be found here. Most of them as well as parks, streets are widely fancy decorated and colorful Christmas decorations. During this season, people go to these places to go shopping as a way of preparing and buying presents. In this season, most shopping malls are crowded and covered with massive Christmas decorations that attract shoppers as expected.
Snow theme events and performance

Since the Philippines is a tropical country yet snow movies such as Frozen are very popular among children, some shows and events are catered to entertain not only for children but adults as wells. Kids and young at heart people can enjoy while watching stunning ballerinas snow costumed theme.
Dancing lights show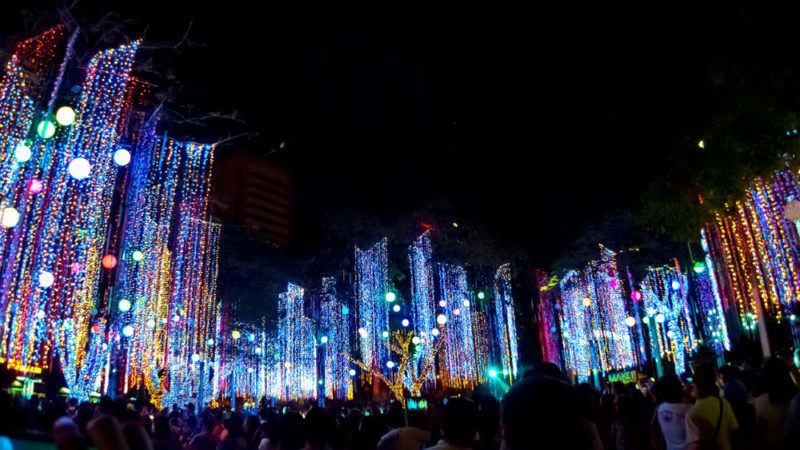 Spectacular dancing lights show every 30 minutes that is also open for the public like this one at Ayala Triangle garden, Makati City. It opens in the early week of December to the first week of New Year. Every year, children, parents, and families are habitually looking forward to witnessing and watching one of the most spectacular dancing lights show in the Philippines.
Children caroling
Christmas is for children and it's a very important event that they've been waiting for! What is more unique in the Philippines during Christmas season than seeing children singing a carol song? In the Philippines, children and their friends find ways to entertain their neighbours in the way of singing any Christmas songs with or without any special musical instrument in hand or nice clothes but a voice talent plus a combination of some dance moves, in a return of the small amount of money as gratitude. 
Puto Bumbong during Simbang Gabi
During Christmas, vendors of puto bumbong stalls are usually located on the street or outside the church as after the mass, for anyone who wants to fill in their hungry stomach with some traditional rice cakes before heading home.
The result? Puto bumbong and bibingka basically are the most sought and favourite rice sweets on holidays. It is cooked with rice, sugar, coconut milk and some toppings.
Noche Buena
If there is one favorite Philippines' cuisine that can always be at the table of Filipino families, that is the lechon. A lechon is a pork roasted dish cooked over charcoal. In most regions, lechon is prepared and served throughout the year on special occasions such as wedding or birthday party, Christmas, New Year, etc. Though it's a little bit pricey in some Lechon shops, one can buy it per kilo or gram. Be careful not to each much that it's a high cholesterol kind of food!
Filipino families also serve different kinds of foods such as buko salad or coconut salad mixed with fruits, spaghetti, barbeque.
Gift opening and exchange gifts 
On the 24th of December or Christmas Eve, like other families around the world, Filipino families love opening presents given to them by their loved ones. Gifts can be a token of anything, clothes, shoes, accessories, or even cash! One other unique thing about the Filipinos is that, when you ask them what present do they want to receive, they would most likely say cash. Which is sometimes more practical. Nonetheless, Filipinos are very appreciative, so whatever you give them, they'd be more than grateful.
And the main ingredient for the warmest celebration of the Filipinos for Christmas? That is, Filipinos are most hospitable human beings on the planet, so if you're celebrating this season with a Filipino family, be prepared on how you'll be treated well. Make sure to try all the mouth-watering traditional Filipino foods as well!
Here you go! What are your plans this Christmas? Do you have anything very special? Are you spending it with your friends, partner or family? Regardless of how you will celebrate your Christmas, I hope you'll have a great one with your loved ones and always remember. Give love on Christmas day! Happy holidays!
Christmas indeed is the longest and the merriest when celebrated in the Philippines. Family reunions and gatherings are also usually scheduled during this season. "Balikbayans" also usually schedule their trip home during this time of the year to be able to spend their time with families and love ones.
Gift giving is also a common practice for most Pinoys during Christmas. We have our "Monito, Monita" at the office, a ton of Inaanak to prepare Papasko for and a long list of Kamag-anaks and Barkada to worry about come Christmas time. Please, everyone come reunion time this year even your "KJ" Lolo and your masungit Tita this Christmas. Be ready to splurge and spend your hard-earned 13th-month pay and Christmas bonus because here's a great list to help you complete your Christmas gift list.
Best Gifts for Nanay and Tatay
Your parents are the ones who usually spend the most when it comes to gifts for you and the rest of the clan during this holiday season. They deserve a break. Give them the best possible gift you can afford, or that one gift that they long to receive from you. On a budget or already out of funds? Tender loving care would do. But for those who have managed to save up for Christmas shopping this year, you might want to consider these gift ideas for your Nanay and Tatay.
DEWALT DCK955X 18-Volt XRP Cordless 9-Tool Combo Kit
Tatay, the handyman of the house would love a new set of tools perfect for all his projects and home repair programs for 2017. This 9-Tool Combo Kit will be his favorite power tools and would be the main topic for most of his inuman sessions with his friends this Christmas.
Price: $919.97
Frigidaire Gallery Series Kitchen Suite
The Queen of the kitchen, your dear Nanay, Mama or Mommy will have a blast with her new range, refrigerator, microwave and dishwasher. Scoring this quite expensive gift would be so worth is every time you get a taste of Mom's good old cooking when you're around. Heck, she might even bring you dinner every day of the week as a token appreciation for this gift.
Price: $2,984.00
Best Gifts for Your Kids
Some say that Christmas is for everyone, but most especially for kids. Give them a treat and let their eyes shine brightly on Christmas night with this fun and light on the pocket gift ideas. Nonetheless, do not forget to spend quality time with your children especially during this season. Nothing compares to the gift of time, quality and fun time with your children.
Honey-Can-Do SRT-01603 Kids Toy Organizer and Storage Bins
Teach your kids to take good care of their toys by giving them a cool place to store their precious pieces. They will have plenty of room to accommodate gifts from their Ninongs and Ninangs this year as well.
Price: $55.82
Party in the Tub Toy Bath Water LED Light Kids
Make bath time a more enjoyable experience for your children in the coming 2017 with these waterproof LED lights as their new bath companion. You can even have this pieces floating by even on the planggana your kids enjoy swimming at.
Price: $7.78
Best Gifts for Tito and Tita
Titos and Titas are like our parents, only way cooler. More often than usual, they are the ones that we can spill our secrets to or the people we often ask for help when we're too afraid to ask Mommy or Daddy. They are like our older siblings, but still, has that responsible adult aura that makes us respect them and see them as our equals at the same time. Below are just a couple of cool gifts you can get them for Christmas.
ELEOPTION Male Watches Waterproof With LED Digital Sports Digital Watch Dual Movt Calendar Chronograph
Your Tito is probably the leader when it comes to preparing the barbeque and other grilled dishes for this year's Christmas reunion. This waterproof watch would be a great reward for his hard work in making this year's family gathering a success. He can even include this to the handful of watches that he loves collecting.
Price: $35.99
Personalized Initial Charms Necklace
Our aunts can sometimes be too strict or way too cool to be treated as an older person. She is our most trusted confidante, a shopping buddy, driver and the second Mum for most of us. Giving her something to remind them of you even while your worlds apart is one of the best ideas you can pull off, even on a budget this Christmas season.
Price: $19.98
Best Gifts for Pinsan
Our cousins are like our brothers and sisters from a different mother and siblings that we do not usually fight Most of the times, having cousins is like having an extra brother or sister minus the love-hate relationship that siblings usually have. Usually, we even consider them as our best friends, making their names a staple in our Christmas gift list.
Sterling Silver Heart Love Bracelet Silver Chain
Consider getting a matching silver heart love bracelet chain for you and your cousin as a gift for Christmas. This can be a symbol of the sisterhood and friendship that you share or simply a token that could remind you of each other every day.
Price: $1.65
Classic Vintage Old Fashion Iron Art Musician Clock Figure Ornament
Your pinsan is most probably the person who introduced you to video games, the local basketball team, that chick from the nearby subdivision and weekend drinking sessions. A nice memento that can be used by his bedside and would remind him of you every waking moment of his life is a great symbolism on how you'll two will stick with each other through thick or thin.
Price: $15.99
Best Gifts for Lolo and Lola
Our grandparents are the people that let us get-away with things, even with our parents. They too deserve a well-deserved gift every Christmas. Lolo and Lola, thanks to the wisdom that they have experienced and gained through the years can practically buy themselves anything, making it hard for you to decide what to prepare for them this Christmas. You might consider these ideas in case you are having a hard time finding one for your grandparents.
Breville BJE430SIL The Juice Fountain Cold
Help Lola stays in shape and keeps her cholesterol levels in check by getting her a useful juicer for Christmas. She can even share the gift of good health to Lolo in the upcoming year.
Price: $199.95
Wild Ride Cabernet Red Wine Gift Set
Having a grandfather is like having a mentor, a motivator and a person that seems to know everything about life. Enjoy more great conversations with your Lolo while enjoying a nice bottle of wine this year right after finishing Christmas dinner.
Price: $50.00
Best Gifts for Your Inaanak
Kids love gift. It would be easier to hand them an "ampao" and get it over with, but gifts can remind them of their Ninong or Ninang who always remembered including their names on the gifts stacked beneath their Christmas trees.
Playhut Beauty Boutique Play Hut
Allow your little girl to play with her imagination as she enjoys applying makeup and playing model inside her own boutique. It's a great place where they can also take a nap or simply lounge around while reading their favorite book.
Price: $34.99
WolVol Transport Car Carrier Truck Toy for Boys
Boys and cars are almost synonymous with each other. Keep his beloved wheels neat and tidy inside this big truck car carrier. You kumare will definitely love this cool organizer for your inaanak's car collection.
Price: $34.98
Do you have anything else to add? Please feel free to share and comment below.